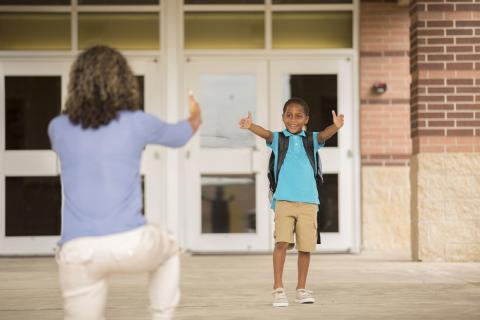 Learning success, growth and development as well as the safety and security of every student is of the utmost importance to all staff members at École Elsie Mironuck Community School.  Our priority is a learning environment that is safe and free from distractions and disruptions.  We take this very seriously as both teachers and students take on the important job of learning, every day at École Elsie Mironuck Community School. 
As outlined in our Welcome Back to School letter as well as in our Student and Parent Guide that were both sent home in early September, we welcome all people to our wonderful school and would like to take this opportunity to remind parents, family, community members, and guests to École Elsie Mironuck Community School of the following important procedures that foster and promote the importance of our safe learning environments:
If you are picking up your child from school during the school day, we ask that you please check in at the front office so that our Administrative Assistant can call your child down to the office to meet you there.  This ensures that we are aware of and accountable for all visitors within our building.
If you are picking your child up from school at lunch or at the end of the day, please pre-arrange a safe spot outside of the school where your child can meet you upon dismissal.  This allows our students and staff the opportunity to complete the day with fewer interruptions with the intent to guard our instruction time on task and build your child's independence. If you would like more information regarding safe places to pre-arrange meeting with your child, please refer to the School Zone Safety For ALL Children article that is found on our school website by clicking HERE. 
If you have any further questions, wonderings, comments, or compliments please don't hesitate to contact school administration.  Your feedback greatly informs actions that lead to the improvement of students' experiences at École Elsie Mironuck Community School.