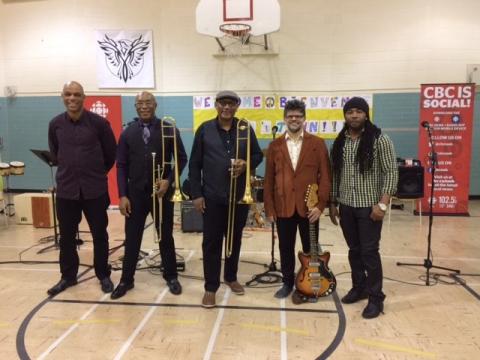 Thanks to CBC Saskatchewan and Juno winning Calypso recording artists KOTO TOWN for the fantastic performance and educational show at our school.  The students and staff were treated to an upbeat and very entertaining concert that involved our students as the group led kids in song, more drumming, and a march finale.  Our Grade 4 students also joined in by accompanying KOBO TOWN by playing the hand drums and the steel pan drums to the song  Limbo Rock. 
We have CBC Saskatchewan to thank for their sponsorship of this special event.  Also, our partnership with Regina Folk Festival has been integral for KOBO TOWN's visit to our school.
CBC Saskatchewan was there to record the concert. 
Click HERE  to read the CBC Online article about our school. 
Click HERE to hear the CBC Radio show and student interviews.
Click HERE to see the CBC TV report.