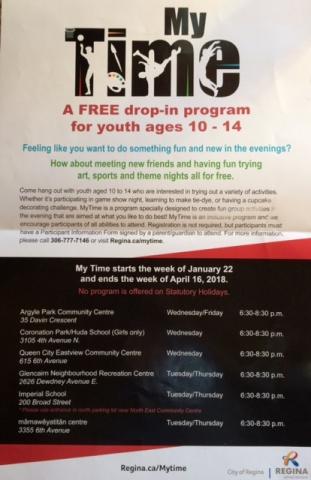 Feeling like you want to do something fun and new in the evenings?
How about meeting new friends and havinig fun trying art, sports and theme nights all for free?
Come hang out with youth aged 10 to 14 who are interested in trying out a variety of activities. You will spend the evenings being active and creative in a safe environment. Whether it's participating in game show night, learning to make tie-dye, or having a cupcake decorating challenge, MyTime is a program specially designed to create fun group activities in the evening that are aimed at what you like to do best!
MyTime is an inclusive program and we encourage participants of all abilities to attend. Registration is not required, but participants must have a  
Participant Information Form signed by a parent/guardian to attend. For more information, call 306-777-7146.