Community

For this year's parent forum, Regina Public Schools will present an evening with Chief Evan Bray titled, "Community Wellness Equals Community Safety" on Tuesday, April 2, 2019 at 7:00 p.m. at Campus Regina Public. Everyone is welcome but seating is limited so please RSVP to info@rbe.sk.ca or call (306) 523-3000 by March 29th if you wish to attend.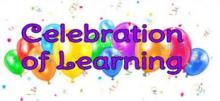 We look forward to welcoming all families and students into our school on Friday March 15th, 2019 for our Celebration of Learning and Conference Day!   Information regarding this important day will be sent home via your child's teacher during the week of March 4-8, 2019.  This will be for all students in KIndergarten "B" and Grades 1-8. This is a important time for students to highlight some of the learning they have been a part of throughout the school year, as well as a time for parents and teachers to touch base regarding each students academic, personal, and social growth.

Please join us for a free public session on the top 10 tips for financial well-being on Wednesday, March 27, 2019 at the Regina Public School Division Office. Please CLICK HERE for a detailed poster.
Those interested in attending are asked to RSVP leanne.wall@rbe.sk.ca by March 22nd.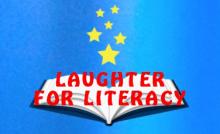 Tickets are now on sale for Regina Public Schools' Laughter for Literacy event on Friday, April 5th, which promises to be an amazing night of comedy, live music and magic! Please CLICK HERE to see the event details and how to purchase tickets for $20 each (tables are of eight). All proceeds go to support our Summer Success Literacy Camps.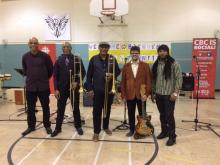 Thanks to CBC Saskatchewan and Juno winning Calypso recording artists KOTO TOWN for the fantastic performance and educational show at our school.  The students and staff were treated to an upbeat and very entertaining concert that involved our students as the group led kids in song, more drumming, and a march finale.  Our Grade 4 students also joined in by accompanying KOBO TOWN by playing the hand drums and the steel pan drums to the song  Limbo Rock.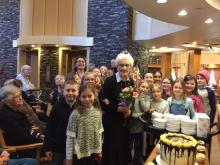 Our Grade 4 classroom along with Mme Haynes paid a very special visit to Miss Elsie Mironuck today.  We wanted to make sure that she knew how much she was loved as we helped to celebrate her 95th birthday!
Miss Mironuck was honoured by our surprise visit this afternoon and her family and friends appreciated the performance that our Grade 4 students had been practicing for this event.  They played their recorders, they sang Royal Wood's Brother Song, and then they waltzed with Elsie and her friends.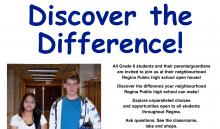 Explore unparalleled choices and opportunities open to all students throughout Regina.
Get the information you need on academic and extracurricular activities, as well as our unique programming such as Advanced Placement, Campus Regina Public, Martin Academy and the Balfour Arts Collective. Experience the best school spirit anywhere!
For complete information please view the Open House poster:  click to view