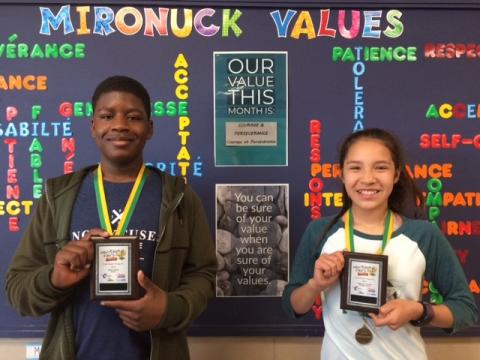 This past week, two students from École Elsie Mironuck Community School received awards for their outstanding bi-lingual presentations, research and work at the annual Regina and Area Heritage Fair.  Nyshane Clarke and Aurora Kennedy both represented our school with leadership, maturity and respect.  We are so very proud of their hard work and efforts.  
Nyshane won the Digital Media Award for his presentation on Immigration in Canada.  Nyshane analyzed immigration trends and people's reasons for immigration to Canada.  He used his own personal story of immigrating to Canada as an example to share with his audience and drew from that experience to examine Canada's immigrants.
Aurora won the Indigenous Award for her presentation on Residential Schools.  Aurora examined Canada's history of residential schools, the present use of education to learn about reconciliation, and the future ways to teach students about our residential school history.  She also looked at the history of residential schools in her family and how it has affected her as a young indigenous woman.
Congratulations Nyshane and Aurora!